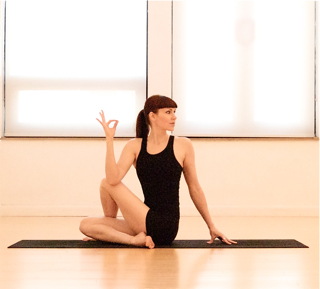 Sadie Nardini is known for her energy, enthusiasm and engaging personality.  Host of Veria's TV's Rock Your Yoga,  Sadie came to yoga on her own personal quest for wellness.  As a teen, Sadie had an undefined central nervous system illness.  She was advised that she would have difficulty walking, but instead of investing in a wheelchair, Sadie tried yoga.
Her new book, published by Random House (2013), is self described as "a metabolic makeover and a life styling manual to get you fit, fierce and fabulous in just 3 weeks."   Written in a fun, energetic manner (a clear connection to Sadie's voice), Sadie describes a yoga body as "freedom, freedom to be who you're meant to be, deep inside.  It's 100-proof you, distilled to your essence on all levels, rocking your mind-bod-spirit-freakin'-entire life to a miraculous, turbo-boosted new level. "
This book is perfect for the individual who is looking for a mentor who is looking for a book that strays away from the standard yoga, meditative banter.   This book is the complete opposite, each word is punched with youthful energy taking typical yoga terms and making them funky.  For example, she starts off with following the road map of Patanjali, quickly saying, "Let's just call him Pat."
Each week of the program has its own focus which will help evolve into the 21 day yoga body.  Week one's focus is on the foundation, week two is he core and week three is expression.
The book includes:
A meal plan focused on the Whole Food Diet
A 3 week meal shopping guide (with some unique additions like lobster meat and mahi mahi)
A guide to Yoga Basics
Daily Guide (including recipes and movement)
Each day begins with a theme, for example Day 1 is Find your Balance while Day 10 is C'mon Baby Light your Fire.  The first few pages are focused on Sadie's personal thoughts behind the theme, with being to stimulate your mind to begin thinking about the theme.  Sadie tries to get real with her  themes sometimes being extremely uplifting while some days Sadie tries to connect with those "bad days" that we all experience (Day 16: Get a Tattoo).
This theme is then carried through with asanas (Sadie offers videos online of each sequence to make it easier for individuals to follow), and then finishes with the recipes of the day which also integrates the theme.    Some of the yoga movements are Sadiefied, with fun Asana's such as Charlie's Angels Pose and Water Fall Cobra.
Her recommendation for meals is "80% whole and healthy and  20% not so much."   The recipes require some preparation and familiarity in the kitchen, in some sections, Sadie provides solely the inspiration leaving the final recipe for the individual to create.
Throughout the book, Sadie includes fun little tips to quick the reader involved and engaged.  This book is perfect for an individual looking to infuse some energy into their routine and wanting looking for a friend for a yoga mentor.   Sadie's overall philosophy is about moderation, which can clearly be seen by the ingredients in the recipe and her small tips  (involving wine and sweets as occasional treats).
Overall, this is a great book for the individual looking to integrate a healthier life style while wanting to avoid the standard yoga language.   A perfect book for the 15-35 year old set, looking for some fun motivation, healthy tips and creative recipes.     However; if you're looking for a more traditional yoga plan, this is probably not the book for you.